B Type Ambulance is designed for basic treatment and monitoring the patient.It is custom manufactured with different brands according to customer wishes.B Type which is more used Emergency Type Ambulance as a name,has a large of medical equipments and has more space for treatment.You can Find the Equipment list of Enak B Type Ambulance (Emergency Type ) as below,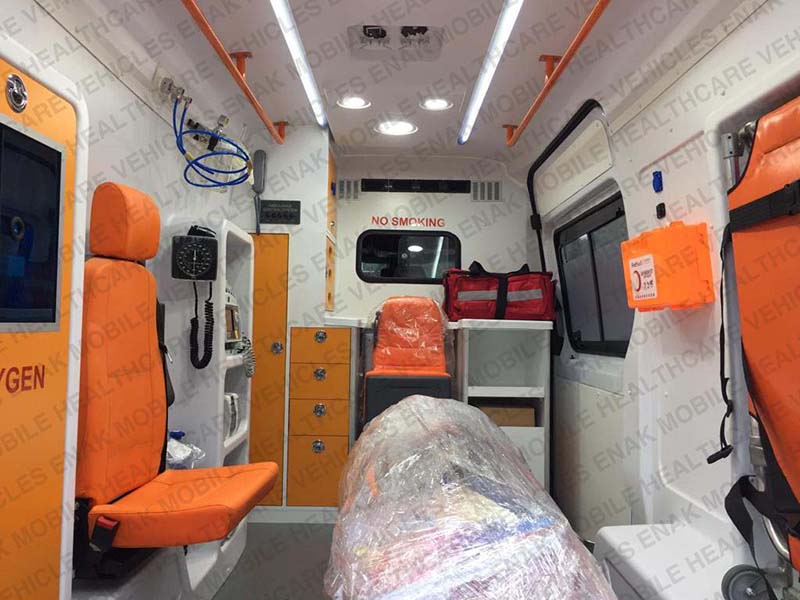 The Equipment List of Enak A Type Ambulance
STRETCHER GROUPS

MAİN STRETCHER(1PCS)
MAİN STRETCHER LOCK SYSTEM (1PCS)
COMBİNATİON
STRETCHER(1PCS)
VACUUM STRETCHER (1PCS)
SCOOP STRETCHER(1PCS)
INTERIOR

Left Side Cabinet-ABS(1PCS)
Right Side Cabinet-ABS(1PCS)
Ceiling -ABS(1PCS)
MEDICAL EQUIPMENTS

Cervical Collars (1PCS)
Spine Board Fixed Spyhg.(1PCS)
Portable Spyhg. (1PCS)
Stethoscope (1PCS)
Termometer(1PCS)
Corpse Bag(1PCS)
PRE-MEDICINE CABINET

OXYGEN CYLİNDER 2LT(1PCS) OXYGEN REGULATOR(1PCS) PARTİTİON CABİNET(1PCS)
SITTING GROUPS
MEDICAL BAGS

Basic Medical Equipment Bag(1PCS)
FLOORING

OXYGEN HOSE AND RECORDS(1PCS)
OXYGEN CYCLİNDER 2X10LT(2PCS)
OXYGEN OUTLET(1PCS)
OXYGEN REGULATOR(2PCS)
OXYGEN FLOWMETER(1PCS)
SUCTİON OUTLET(1PCS)

FLOOR INSULATION(1PCS)
FLOORİNG COVERİNG(1PCS)
ANTİ-BACTERİAL FLOORİNG(7M2)
WATER PROOFİNG(1PCS)
INTERIOR FINISHES

Partition Cover(1PCS)
Glass Partition(1PCS)
Door inner Cover(1PCS)
Inside Cabin Mounting Brackets(1PCS)
PORTABLE OXYGEN UNIT

Oxygen Cylinder 2LT(1PCS)
Oxygen Regulator(1PCS)
ELECTRICAL SYSTEM

AİR SPLİNT SET (1 SET)
CERVİCAL COLLARS(1 SET)
SPİNE BOARD(1PCS)
BİRTH KİT(1PCS)
BURN SET(1PCS)
PORTABLE SUCTİON PUMP(1PCS)
DEFİBRİLLATOR(1PCS)
TRANSPORT VENTİLATOR(1PCS)
REANİMATİON UNİT(1PCS)
FİXED SPYHG.(1PCS)
PORTABLE SPYGH.(1PCS)
STETHOSCOPE(2PCS)
GLUCOMETER(1PCS)
PULSEOXİMETER(1PCS)
TRACTİON SPLİNT SET(1 SET)

ELECTRİCAL SYSTEM(1SET)
DİGİTAL POWER PANEL
RECTİFİER -BATTERY CHARGER-(1PCS)
RECTİFİER 220V ELECTRİC ENTRY AND CUTTİNG(1PCS)
ADDİTİONAL GEL BATTERY(1PCS)
SOCKET 12V(2PCS)
INVERTOR 12V/220V/1000W(1PCS)
OUTLET 220V (2PCS)
FUSE CURCİUT BREAKER(1PCS)
LED LİGHTİNG(2PCS)
STRETCHER SPOT LİGHTS(4PCS)
INTERCOM(1PCS)
ELECTRONİC SİREN AND TOP LİGHTBAR(1PCS)
BACK TOP LİGHTBAR SİDE WARNİNG LAMPS(6PCS)
REAR CABİN HEATER(1PCS)
Catalog
You can find detailed information about the vehicle in the catalogue.
Video
You can get more interior design and features of the vehicle in the video.