A Type Ambulance is medically equipped to transfer the patient to the hospital or clinic.It is designed without ventilllator or defibrillator because it is only used for transporting the patient to the treatment area in an emergency events.It can be custom designed according to needs of customers. A Type Ambulance can be designed in different Brands.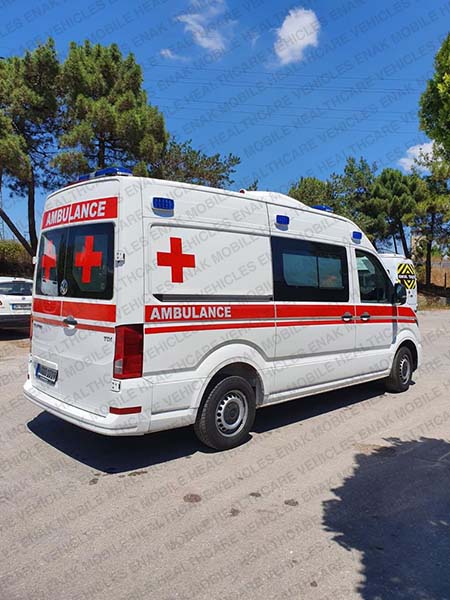 The Equipment List of Enak A Type Ambulance
STRETCHER GROUPS

Main Stretcher(1PCS)
Main Stretcher Lock System (1PCS)
Combination
Stretcher(1PCS)
Vacuum Stretcher (1PCS)
INTERIOR

Left Side Cabinet-ABS(1PCS)
Right Side Cabinet-ABS(1PCS)
Ceiling -ABS(1PCS)
MEDICAL EQUIPMENTS

Cervical Collars (1PCS)
Spine Board Fixed Spyhg.(1PCS)
Portable Spyhg. (1PCS)
Stethoscope (1PCS)
Termometer(1PCS)
Corpse Bag(1PCS)
PRE-MEDICINE CABINET
DISPOSIBLE MATERIALS

Oxygen Mask-Adult (3PCS)
Oxygen Mask-Kids (3PCS)
Injector 100cc luer tip(5PCS)
Suction Catheher(6-8-14-18FR)( 4 PCS)
Urine Bag(3PCS)
SITTING GROUPS

Right Side Rotary Folding Chair(1PCS)
Platform Right Side(1PCS)
Doctor Front Seat(1PCS)
MEDICAL BAGS

Basic Medical Equipment Bag(1PCS)
FLOORING

Lower Floor Insulation(1PCS)
Flooring Material(1PCS)
Anti-Bacterial Flooring(7 m)
Water Proofing(1PCS)
OXYGEN AND VACUUM SYSTEM

Oxygen Hose and Records(1PCS)
Oxygen Cyclinder 2X10lt(2PCS)
Oxygen Outlet(1PCS)
Oxygen Regulator(2PCS)
Oxygen Flowmeter(1PCS)
Suction Outlet(1PCS)
INTERIOR FINISHES

Partition Cover(1PCS)
Glass Partition(1PCS)
Door inner Cover(1PCS)
Inside Cabin Mounting Brackets(1PCS)
PORTABLE OXYGEN UNIT

Oxygen Cylinder 2LT(1PCS)
Oxygen Regulator(1PCS)
OTHER MATERIALS

Fire Extiguisher(2PCS)
NO Smoking -Oxygen(2PCS)
Garbage(1PCS)
Hammer For Breaking Glass Belt Cutter(2PCS)
Rear Handrail(1PCS)
Side Reflective Lines(1PCS)
All Text and Logos(1PCS)
Ceiling Infusion Hanger(2PCS)
Side Door Sliding Glass(1PCS)
AC(1PCS)
ELECTRICAL SYSTEM

ELECTRİCAL SYSTEM(1SET)
DİGİTAL POWER PANEL
RECTİFİER -BATTERY CHARGER-(1PCS)
RECTİFİER 220V ELECTRİC ENTRY AND CUTTİNG(1PCS)
ADDİTİONAL GEL BATTERY(1PCS)
SOCKET 12V(2PCS)
INVERTOR 12V/220V/1000W(1PCS)
OUTLET 220V (2PCS)
FUSE CURCİUT BREAKER(1PCS)
LED LİGHTİNG(2PCS)
STRETCHER SPOT LİGHTS(4PCS)
INTERCOM(1PCS)
ELECTRONİC SİREN AND TOP LİGHTBAR(1PCS)
BACK TOP LİGHTBAR SİDE WARNİNG LAMPS(6PCS)
REAR CABİN HEATER(1PCS)
Catalog
You can find detailed information about the vehicle in the catalogue.
Video
You can get more interior design and features of the vehicle in the video.